GS Ranch WINS at Cow Country Classic 2014
Thanks to ASC of MT for putting on such a great trial!!! We cannot begin to express how happy we are with our dogs!!! Again we would like to congratulate everyone on a job well done - there was some really great runs made!!!

Rush's Winnings: WTCH'd, 2 High Combined Cattle, and the High Combined Non-WTCH Buckle!!  AND for those of you who know Rush and what he thinks about duck will appreciate his WIN picture!

Billy's Winnings: High Combined WTCH Buckle, 2 High Combined Sheep, 1 High Combined Cattle, High in Trial, and the High Combined Cow Dog award - I am so honored to have my name and Billy's included with some unbelievable handler/dog combos!!!

Hitch's Winnings: Started titles in Cattle, Sheep, and Ducks.  Even though we did not always compete against another dog in a given category Hitch respectfully earned 3 high started scores all in the 90's out of a possible 100 points!!
Cow Country Classic Montana 2013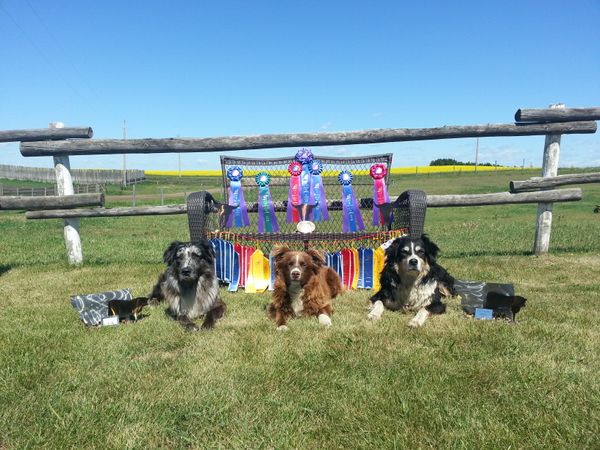 Summer Round Up Montana 2013